Pressure Washing Services
Residential Pressure Washing Services
Tanner's Pressure Washing services residential customers throughout Greenville SC, Spartanburg SC, and the Simpsonville SC areas.
Residential pressure washing services can help keep your home safe and attractive. You don't have to spend a lot of money to get professional services. In fact, many homeowners save money in the long-run by avoiding the high prices of repairs and replacements.
We are fully Licensed & Insured. We offer Free Estimates for all residential services. We specialize in Residential Pressure Wash Cleaning, Driveway Cleaning, Concrete Cleaning and Low-Pressure House Washing.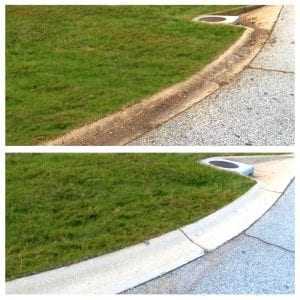 Residential
Pressure

Washing Services From Tanner's
Tanner's Pressure Washing offers a wide range of services to keep your home in top shape! Some of our most popular services include:
Your home is most likely your biggest investments in your entire life. An exterior home cleaning service could renew your homes beauty without the need to re-paint the entire thing. Also, mold & algae can easily form on your exterior walls which not only looks bad but can also be a safety hazard.
Your property is more than acreage and four walls – it's an investment. Our team is proud to bring out the best in your property with pressure washing services. We help you enjoy your home or business to its full potential, today and everyday. And, don't forget, all house washes come with a FREE WALKWAY CLEANING.
With the proper detergents and experience, you can effectively wash a home without using damaging high pressure. Here at Tanner's Pressure Washing, we use a LOW PRESSURE technique to thoroughly clean homes without harm to plants, painted surfaces, etc. Get stress-free service that you can rely on from Tanner's Pressure Washing! Contact Tanner's Pressure Washing today for a FREE ESTIMATE!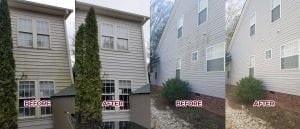 Concrete, paver, stone, and brick are the most common materials to build sidewalks and walkways in South Carolina. Our experience has taught us that these materials easily attract dirt and grime. Not to mention the combination of tree leaves, humidity, water, and sun create the perfect environment for mold, fungus, mildew, and other unwanted stains to yucky your house's entryway.
At Tanner's Pressure Washing, we are able to clean any concrete surface on your property, regardless of its size and texture. To do so, we use only professional-grade pressure cleaners and your job is always done by experts with a lot of experience. When using the pressure washing method to clean the concrete surfaces on your property, no harsh chemicals are required. Our high pressure system removes all of the impurities that are on the surface. When we are done with your concrete cleaning service, your surfaces will look as good as new and the chances of someone slipping, falling, and getting hurt will be reduced. Contact Tanner's Pressure Washing today for a FREE ESTIMATE!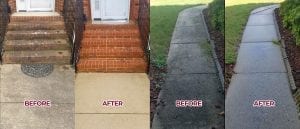 We are proud to offer the best driveway cleaning services in the Simpsonville, SC area. Your driveway naturally gets the most traffic, dirt, oil, debris, dust, mold, algae, and other contaminants. A good driveway cleaning could be just what you need to refresh and renew your home's curb appeal. You will find that our driveway cleaning prices are very competitive and will leave your home looking new again with a price that won't leave your pocketbook empty.
Cleaning driveways is not an easy task. You need the proper power washing equipment, supplies and cleaners, if necessary. Contact Tanner's Pressure Washing today. If you live in our service area, you can even get a FREE ESTIMATE.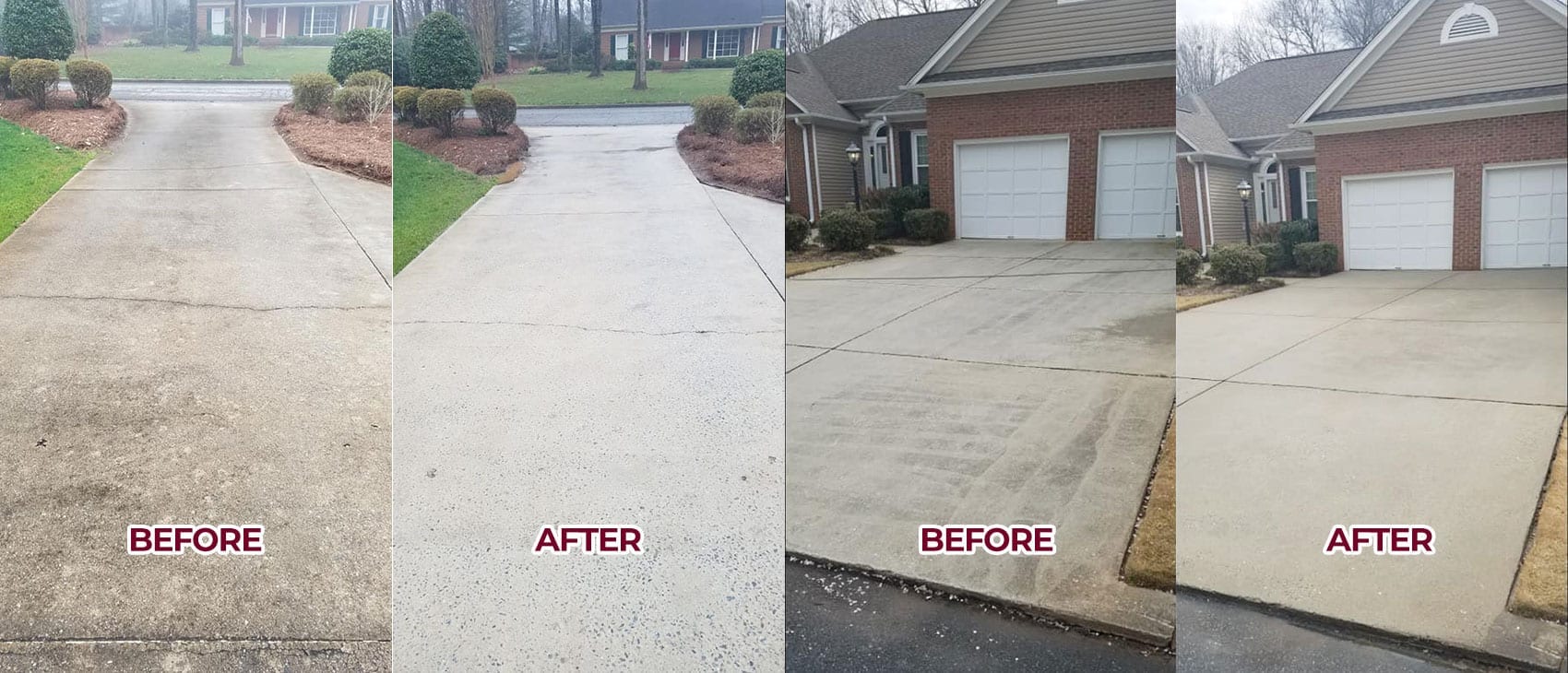 Constant exposure to South Carolina's weather can damage your roof quickly. You may notice gray or black streaks on your roofing. Those streaks come from algae that will keep spreading until you do something to stop it. Exposure to dirty rainwater, sun, and pollution also contribute to your roof's health.
Tanner's roof soft washing will remove stubborn grime and stains to make your roof look better and last more years. The longer you wait, the more algae and dirt collect on your roof.
So, schedule a soft washing appointment as soon as possible to get a clean roof you'll love.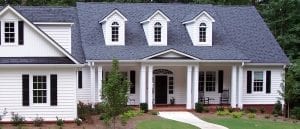 From GREEN to CLEAN!
Give us a call to schedule your FREE ESTIMATE!
Testimonials
What happy customers say about our pressure washing services: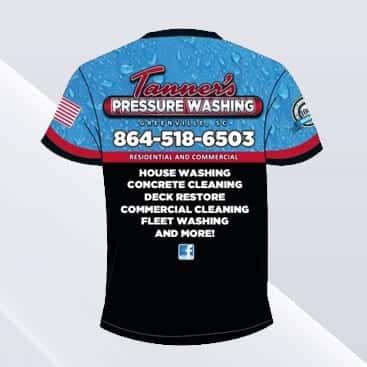 Awesome work and great equipment! Highly recommend!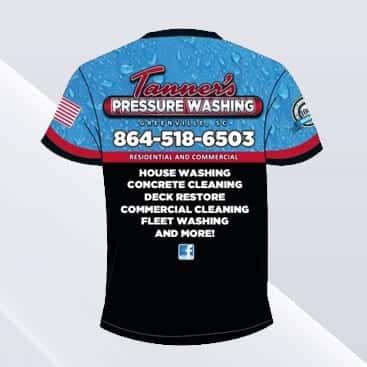 Cody was thorough and did the job right. Great service! Highly recommend.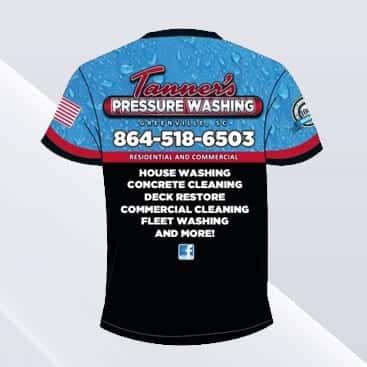 This company is friendly, knowledgeable, and professional. Definitely will be calling Tanner's Pressure washing again in the near future!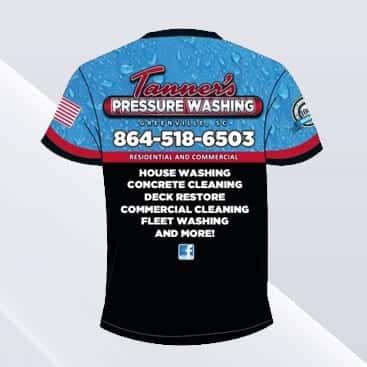 Cody was very thorough and careful. He makes sure your house is as clean as possible and willingly goes over places without even being asked. I would suggest Cody to anybody in need of pressure or soft washing.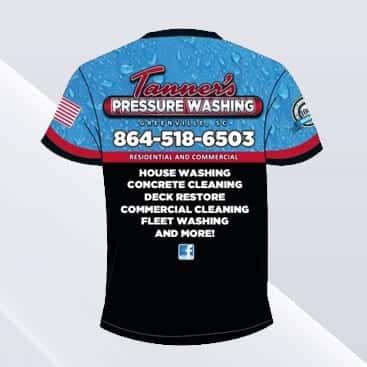 Excellent work and service by Cody. Attention to detail at a fair price. Highly recommend his service!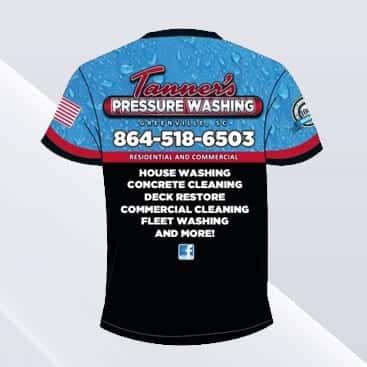 Cody at Tanner's Pressure Washing soft-pressure washed my home, walkway, driveway, deck and patio. He did an amazing job!! Worked meticulously, and didn't miss a spot! My house looks brand new again!!! And at a great price! Extremely pleased. I highly recommend this business.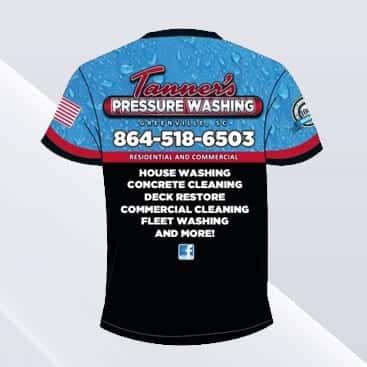 Cody and his team at Tanner's Pressure Washing LLC did an awesome job pressure washing our house. They arrived on time, and worked hard to make sure the house, patio, sidewalk, and driveway were clean as a whistle! They left no mess and were very affordable. Would definitely recommend them to friends, family, and neighbors.